Ransom ware and Trojan Repair
Not a case of just visiting the wrong site any longer. It can happen to anyone. From any site you may visit or download from.
We can safely and securely remove all Trojan Virus and Malware.
We respect your privacy and can do the work quickly and efficiently and in almost all cases your programs and data will be exactly the same as it was prior to any infection you had.
Some Images of what you might see on your screen:
FBI Trojan
Fake Windows repair message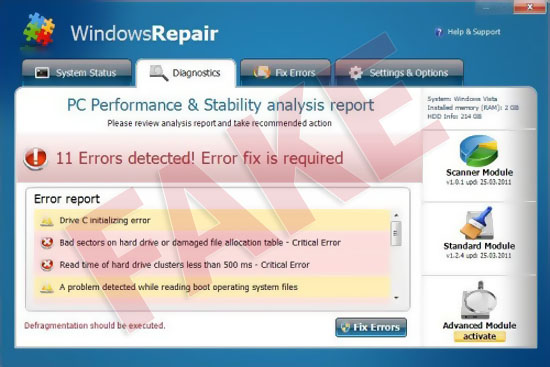 Beware of Fake Virus Repair Messages. DO NOT CLICK
If you think you have been infected it is best to shut the system down and call us straight away. Using your system whilst infected can increase the risk of your data being stolen, corrupted, or even deleted.
Example of a fake repair message
Example of a fake repair message
Call us for assistance. We can normally turn the system around within 24hrs.
We provide FREE pick up and delivery to and from our workshop in East Orlando
407-595-7846
All Prices Vary From $65.00 to anywhere up to $145.00

Average is $85.00
Solely depending on the type and damage caused the boot structure of the system and service damage it may have caused.
We update and Repair the system clean and remove threats, that may compromise your identity and or personal details.